Pictures from Gus Cook: (Click on image to enlarge)

Joahanna Oelker (Jarvis), Don Rhodes & Mary Skinner (Deceased) (Kinnett)

Tom Walters, Gary Butler & Wib Standriff (Deceased)

Glen Burkhardt (Deceased) & Mary Ann Ryan

Clock-wise starting with Shirley Kinzer (Karg), Ed Banschbach, Loretta Stamper (Banschbach), Dan Kuckenrider (Deceased), ?, Cecilia Dennis (Tallichet), Shirley Lawrence Walters - Mrs Kuckenrider at right in back

From left - Bill Stevens, wife, Glenn Burkhardt (Deceased) & wife, Joahanna Oelker (Jarvis), Don Rhodes, Mary Skinner (Deceased) (Kinnett), 2?, Yvonne Runyan (Breyley) & Don

Wanita Meyer (Gresham), Loretta Stamper (Banschbach), Ed Banschbach & Dan Kuckenrider (Deceased)

Jane Miller (Schorr) & Yvonne Runyan (Breyley)
Pictures from Jane Miller (Schorr): (Click on image to enlarge)
| | | |
| --- | --- | --- |
| Gus Cook, Shirley Kinzer (Karg), Kay Claibourn (Erdman), Tom Walter, Jane Miller (Schorr), George Weamire, Cecilia Dennis (?), Don Rhodes, Mary Ann Ryan, Mary Skinner (Deceased) (Kinnett) & Wanita Meyer (Gresham) | Clock-wise starting with Wib Standriff (Deceased) & his wife, Jane Miller (Schorr), Shirley Kinzer (Karg), Ed Banschbach, Loretta Stamper (Banschbach), Dan Kuckenrider (Deceased), Gus Cook, Cecilia Dennis (Tallichet), Shirley Lawrence Walters, Tom Walters | Mary Ann Ryan, Jane Ann Miller (Schorr), Juanita Meyer (Gresham), Shirley Kinzer (Karg), Don Rhodes, Loretta Stamper (Banschbach) & Ed |
| Facing from left - Glenn Burkhardt (Deceased) & wife, Joahanna Oelker (Jarvis), Don Rhodes, Mary Skinner (Deceased) (Kinnett), 2?, Yvonne Runyan Breyley & Don | Jane Miller (Schorr), Dan Kuckenrider (Deceased), Yvonne Runyan (Breyley) & Don | Wib Standriff's wife & Jane Miller (Schorr) |
LCHS CLASS OF 1952
List of those that came
LHS class of 1952 holds 50th reunion
From Dearborn County Register, September 19, 2002
The Lawrenceburg High School Class of 1952 held its 50th class reunion at Chateau Pomije Saturday, August 17. A social hour was enjoyed prior to the dinner at 7 p.m.
A tour of the high school was taken in the afternoon before the dinner.
Those attending from out-of-town were: Kay Claibourn Erdman, Maitland, FL, Juanita Meyer Gresham, Indianapolis, Jane Ann Miller schorr, Barrington, IL, Yvonne Runyan Breyley, Ft. Mitchell, KY, Cecilia Dennis Tallichet, Newport Beach, CA, Wib Standriff (Deceased), Cincinnati, Don Rhodes, Mesa, AZ, and George Weamire, Whittier, AK.
Local attendees included: Glen Burkhardt (Deceased), Ray Caldwell (Deceased), A.D. "Gus" Cook, Bill Stevens, Gary Butler, Shirley Kinzer Karg, Dan Kuckenride (Deceased), Johanna Oelker Jarvis, Mary Ann Ryan, Mary Skinner (Deceased) Kinnett; Don Smith (Deceased), Loretta Stamper Banschbach, Tom Walter.
---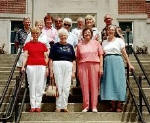 A tour of the high school was held Saturday afternoon with class members and guests. Guests from Florida marveled at the size & accouterments of the gymnasium until reminded that Hoosiers are basketball fanatics without peer. School was impressive although the hall were painted in depressing, dark colors. Even the yellow was drab.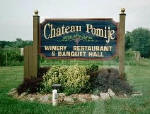 Saturday, August 17, 2002, we met at Chateau Pomije Winery & Restaurant for dinner. If you were late it was "tough bucko", you were lucky to get a seat. Cocktail hour was 6:30 - 7:30 pm; red wine spilling time was 7:28 and dinner was at 7:30. A short program was held over the din of fellow revelers in the same room.
Pictures from Don Rhodes: (Click on image to enlarge)
| | |
| --- | --- |
| Bill Stevens, wife, Mary Ann Ryan & George Weamire | Gus Cook, Shirley Kinzer (Karg), Kay Claibourn (Erdman), Tom Walter, Jane Miller (Schorr), George Weamire, Cecilia Dennis (Tallichet), Don Rhodes, Mary Ann Ryan, Mary Skinner (Deceased) (Kinnett) & Wanita Meyer (Gresham) |
| ?, Joahanna Oelker (Jarvis), Don Rhodes & Mary Skinner (Deceased) (Kinnett) | Joahanna Oelker (Jarvis), Don Rhodes, Mary Skinner (Deceased) (Kinnett), & 2? |
Pictures from Mary Skinner (Deceased) (Kinnett): Click on image to enlarge
| | | |
| --- | --- | --- |
| Before we arrived | George Weamire & wife | George Weamire, wife & Kay Claibourn (Erdman) |
| Loretta Stamper (Banschbach), Shirley Kinzer (Karg), Glenn Burkhardt (Deceased), Janet Smith, ?, Don Smith (Deceased) | Mary Anne Ryan, Yvonne Runyan (Breyley), Don Breyley, Loretta Stamper (Banschbach), Shirley Kinzer (Karg) & ? | Mary Ann Ryan, Jane Miller (Schorr), Wanita Meyer (Gresham), Shirley Kinzer (Karg) |
| Backs of some people | Joahanna Oelker (Jarvis) | Dan Kuckenrider (Deceased), Sue Lawrence Walter, Wanita Meyer (Gresham), Wib Standriff (Deceased) & Dee Butler(?) |
| George Weamire | ?, Cecilia Dennis (Tallichet), Loretta Stamper (Banschbach), Ed? Banschbach, Shirley Kinzer (Deceased) (Karg) | Time to eat |
THE COMMITEE
| | | |
| --- | --- | --- |
| Gary Butler | Johanna Oelker (Jarvis) | Don Smith (Deceased) |
| Shirley Kinzer (Deceased) (Karg) | Mary Ann Ryan | Loretta Stamper (Banschbach) |
| Dan Kuckenrider (Deceased) | Mary Skinner (Deceased)(Kinnett) | Tom Walter |
Revised: December 01, 2018